So nobody took me up on my challenge. 😉 I get it; who wants to write one more thing online. Here was the challenge:
Without looking through the book of Acts, try to call up as many examples of prayer as possible. Share those examples with our readers without commentary. Then take mental notes of the environment, what was taking place that led to prayer, and what did prayer look like for them? Lastly, what might Western missionaries overlook when they are among the nations as it relates to prayer?
I took on my own challenge by searching for all the prayers in the book of Acts and making notes of the context and motive driving those prayers. Here is that list of prayers and the corresponding context:
Wow! I was incredibly struck by the fact that each and every prayer in the book of Acts was directly connected to apostolic work in-action (sharing the gospel, making disciples, and enduring persecution). There were no prayers offered for a "personal wish list" such as:
By all means, Paul tells us in Philippians to NOT worry about anything, but to pray. Yet, every prayer in the books of Acts was centered around the desire for others to know Jesus, making disciples, furthering the work of the apostles, and enduring persecution.
Hmmm . . . if I were totally honest with myself . . . my prayers are more about me (and extraneous activities) and less about my neighbors, making disciples, and persecution. I know exactly how to change the content of my prayers as a Christ follower with a missional heart. I have to get busy meeting people, loving my neighbors, and making disciples. Then, I will have lots to pray about in regards to the gospel, people, and persecution.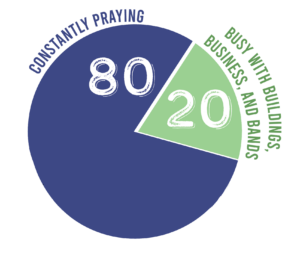 If we aren't praying the types of prayers exemplified in the book of Acts on a regular basis, chances are our 80/20 principle probably needs realignment.
We can do this! As mission workers, let's make sure our propensity for focusing on buildings, business, and bands does not take time away from our "acts of the apostles" in our mission work.
Thanks for joining us for this "80/20 Mission Principle" blog series! Behind? Check out the previous blogs:
The 80/20 Mission Principle: Constantly Speak of the Kingdom of God
The 80/20 Mission Principle: Model Equal Access to our Power Source, the Holy Spirit
The 80/20 Mission Principle: Constantly Pray